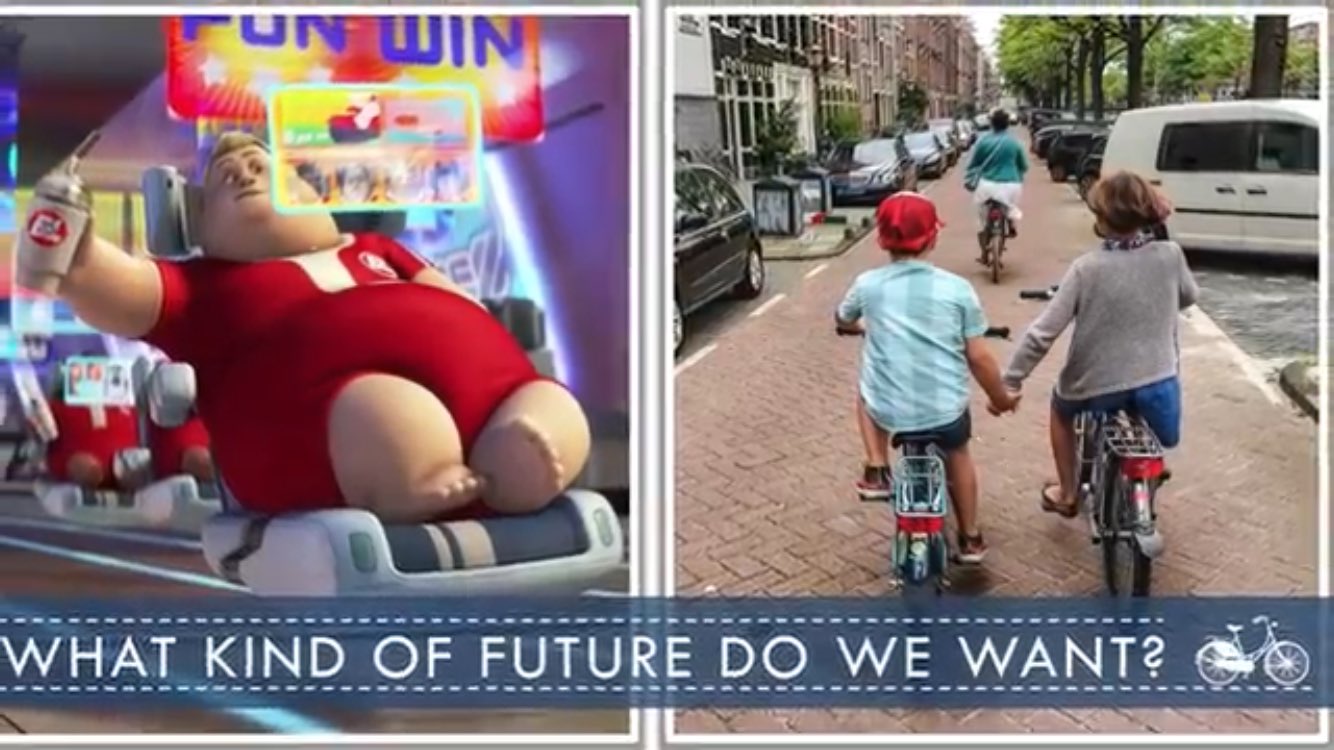 This image is said to be from https://twitter.com/modacitylife. 
I put it that way–"said to be from"–not because I like that feed, though I very much do, but because although a number of people have shared it and attributed it to them, I couldn't find it there when I looked. (Update: Found. But they just retweeted it from someone else. I'm glad.) This contrast between fat drivers and thin cyclists drives me up the wall.
Modacity life is about this: "In the summer of 2010, our family made the conscious decision to sell the family car, embarking on a new and enlightening adventure. Forced to move to a multi-modal commute, relying on public transit, walking and a great deal of cycling, we quickly realized the benefits of living a 'car-lite' lifestyle, not the least of which was the increased human interaction with the city we call home. Using writing, photography, film, and the power of social media, we used this revelation to communicate a more human image of multi-modal transportation. Together, we now strive to educate people and cities about the inherent benefits of moving away from a car-centric transportation model, to a more inclusive one that is accessible to people of all ages, abilities, and economic means.Promoting the public health, environmental, and social benefits of walking, cycling, and public transit, our goal is to improve on the great strides already made in many cities, creating a more open and welcoming environment for residents and visitors alike."
The Brunlett's had a book launch in Guelph and I loved the launch. I've enjoyed reading the book. 
Anyway, anyway, there are lots of wonderful reasons to ride bikes. It's great for the environment. It's great for your mood and for your physical health. Just so many reasons…
But on behalf of larger cyclists everywhere, I just want to say IT WON'T NECESSARILY MAKE YOU THIN.
Also, cycling is for everyone!
See Big women on bikes.
Want an example of how to talk about public policy and bike advocacy without false promises and fat shaming? Look here.
From that interview, ""I got started working on transportation issues, which came about mostly because I love the fun and freedom that comes with being able to ride my bike and walk around my neighborhood.  But when I talk about bicycling from a public-health perspective, it's easier to emphasize the health and financial benefits of obesity reduction. Which is just plain silly; I don't want someone to take up bicycling just because it will help them lose weight. That's a recipe for disappointment and frustration and doesn't support sustainable healthy choices."
Just ride and enjoy!